Healing Between the Genders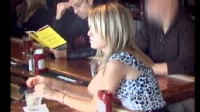 Recently I saw an old episode of "What Would You Do", titled "Man Drops Powder in Date's Drink". and was more than a little disturbed. The episode showed actors being portrayed as a young attractive couple who met on the Internet and were on their first date.
The setting was a bar scene where the man would drug the woman's drink while she went to the restroom – what would the other people sitting at the bar do? Would they respond or ignore the fact that this man was obviously doing harm to this woman?
Time after time, the man would lace the woman's drink, clearly in front of other people, and most of the people would look the other way – even when it was obvious they witnessed what was occurring. Finally, one man stood up, and confronted the guy. The gentleman that confronted the actor was about 10-20 years his senior and he scolded him for "doing that to this young lady". He never told the woman when she returned from the bathroom, but he did buy her a new/unlaced drink. All the while, his wife was telling him to "shut up!"
Very few people stood up, but at least some did. BUT, that is when she was dressed as a "sweet, innocent woman". Then, her outfit was revised. Same woman. Now dressed showing a little more skin. Everything changed.
The same actor, same bar, first date, now with a woman dressed more provocatively. The woman would get up to go to the restroom, and her date would lace her drink. He now had what he called, "wingmen". There were men actually cheering him on as he drugged her wine! No one was helping this woman out. No one stood up for her, until one woman, who wasn't even in the camera range, witnessed the man slipping something into the drink. She stood up, got in his face, confronted him, took the girl back into the bathroom, told her what had occurred and then asked her if she needed a ride home (away from this guy.)
By this time, the actress was emotional. She said she was pretty upset that people were not helping her character out, and when the woman rose to the occasion in spades, she broke down.
Then, I decided to watch the opposite show, also by "What Would You Do", titled, "Woman Drops Powder in Date's Drink". Where actors go on a date, and the woman drugs her date's drink when he goes to the restroom, in order to steal his money.
In several instances, men witnessed the man get drugged and said nothing. They even joked about about the situation, saying they couldn't wait to read the news tomorrow to see what happened to him or some just kept doing what they were doing – like reading(!). One man even admitted that he "failed humanity" by not speaking up. The only person who stood up for this man, was a woman in the bar. She told the woman, after seeing her spike the man's drink, that she was going to tell the man what happened. She was the only one.
Is doing nothing acceptable to you? This is obviously not a man vs woman thing. This is bigger. This is a human race thing. We need to be here for each other and not be afraid to do the right thing. We need to heal ourselves by reaching out to each other.
Check out the WWYD quiz: http://abcnews.go.com/WhatWouldYouDo/page?id=10614513
Ana Lewis
Founder
WomenontheVerge.net